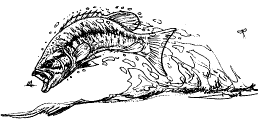 Check it Out



Headwaters:
a fish and angling art show
Here is a great selection of Hunting & Fishing magazines.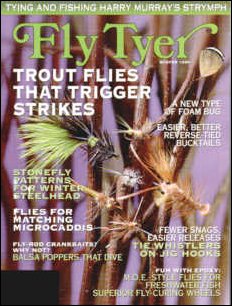 With 1200 Magazines to choose from you just can't go wrong
Help support this site by supporting our affiliates
All intellectual property and Pictures Copyright© of Robert Morger 1999. No reproductions of any material on this site is permitted without the express permission of the owner. All rights reserved.
The Onelist logo is a copyright of Onelist,Inc Copyright © 1998-1999, ONElist, Inc. All Rights
Reserved.
If you have suggestions or questions please contact rmorger@juno.com
Powered by counter.bloke.com
Black Fur Ant
Tyer William Loehman

Material

HOOK:

Dai-Riki 301 or other straight eye

dry hook Sizes 14 to 20

THREAD:

Black 8/0.

BODY:

Dubbed black fur with a small amount

of brown blended in.

HACKLE:

Partridge, crow or other soft hackle

This is a very simple, effective pattern. I usually fish it in a size

16 to 20. It's a good pattern to try on rising fish after being stumped

trying to match the hatch.

Form the distinct body shape of an ant with the dubbed fur, making the

back lump much bigger than the front lump. Finish your dubbing with the

thread in between the two lumps. In the space between the two lumps, tie

in the soft hackle and make about two turns. KEEP IT SPARSE. I usually

use a hackle slightly smaller than with traditional soft hackle flies.

Tie off and whip finish in between the humps.