I don't think a home water has to be a specific place, but rather a place where a person is most comfortable fishing. At least that is the definition that fits me best. Maybe, it's even the type of water - fast moving river or still pond, clear-water tropical flat or moody green northern estuary - that makes a person feel at home. Hopefully what follows will help bring this into focus.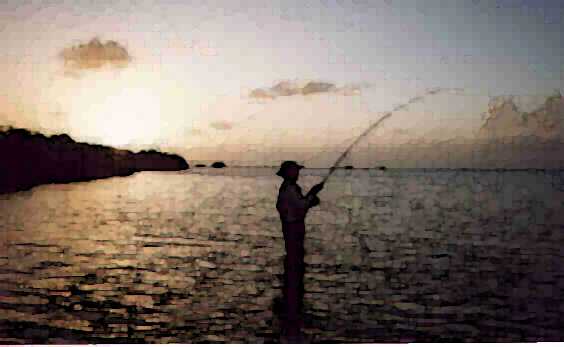 I remember going on many camping trips in my native Maryland and neighboring mid-Atlantic states while growing up. My parents often took the family camping, and fishing was almost always a part of the trip. I started out small - fishing for bluegills along the banks of a tidal river that eventually ended in Chesapeake Bay. At least that's my first fishing memory. The particular spot I am thinking of was at a state park campground, and not far from the road that wound among the camp sites.
There was a tree, oak I think, that was its own little island, with a moat around it, separating the island from shore. It seemed a vast cavern of river bottom between the bank and tree island, but my guess is that now it would be barely a long step from shore to island. At low tide, the space between the tree and shore was exposed, and probably a foot deep. At high tide, the moat was a tannin-stained stillwater that held hungry bluegills that often fell for a piece of nightcrawler threaded carefully onto a hook.
Armed with a fiberglass pole and a close-faced Zebco reel, I took this pursuit seriously. I don't remember keeping more than a couple of fish, practicing catch and release fishing without really knowing it. We camped at this park often. With time, we explored other sections of the river by canoe. There were other spots I fished on family camping trips, each with it's own memories, many with better fishing. But the feeling of familiarity belongs almost exclusively with that moated oak tree island and the tannin-stained waters of the river that gave the island life. I think I would recognize the spot instantly if I happened upon it again, and would feel the energy of the river. And I'd know just how to fish it. Although I haven't returned to this campground, or even the river on which it lies, for countless years, I think it would feel familiar even before I recognized where I was.
While in high school, I kept a small aluminum boat at a local reservoir, and spent many weekends exploring the coves and points in search of fish, mostly largemouth bass. Sunfishes, walleye, pickerel, yellow perch, the occasional smallmouth bass, and crappie also inhabit the waters of this reservoir. The exploration of the reservoir was a time-intensive process because this was an electric motor-only waterway, which greatly limited how much area I could cover in a day. I have far too many memories of rowing home with the battery spent, wary of the wrath of the fishing center manager waiting for me to return so he could close the gates. As I remember, he never did ask if the extra exploration and fishing was worth the long row home. Many times I schemed to have a friend take my car from the parking lot so it would appear there were no boats out, and the fishing center would close. Fishing would be best at dusk, which is just when the fishing center gates were locked. I never followed through with that plan. I'm not sure why. Maybe I couldn't get a friend to help out, maybe I didn't want to risk being caught. Getting caught would have been the end of my boat space at the fishing center. What a terrible thought. But I can't complain too much about the time limits imposed by the fishing center schedule; I was never questioned when I headed out in the boat on those weekdays during the school year.
At some point I got hold of a topographic map that showed the reservoir, but also showed the slope of the land now submerged. Probably, the map was once available at the fishing center or a local fishing shop, but I remember the map as a tough find and rare possession. I dutifully recorded my explorations and fishing results on this map, and kept it in a plastic bag along with a small notepad, in which I recorded the usual fishing log information; time of day, weather, temperature, lures used, fish caught....
Over time, the map became dog-eared and torn along the creases, and was eventually a patchwork of ever-smaller taped-together pieces of scribbled-on paper. As the map became worn I looked for a replacement but was not able to find one. I don't know why I didn't photocopy the map, if for no other reason than as a reserve copy. But a copy would have seemed artificial and contrived. The worn map had character, and told more than just what had been written on it's face. Kind of like the fiberglass mold of a mounted fish - the magic of the fish and everything associated with it is lost in the plastic hanging on the wall. That map became a treasured possession. I think I still have it somewhere.
I get back to that reservoir every once in a while, and have even rented a boat at the fishing center. To a certain extent, there is no repeating the aura of fishing this water years ago, but that is fine and as it should be. Still, each cove and point, and even the weed beds, are familiar. The field of submerged tree stumps at the island should hold a decent fish, and the edge of the weed bed in Picnic Cove is a favorite spot for crappies, which are especially hungry in the late afternoons. Even some of the coves that were nameless on the map, which I then named - Bluegill Cove, Carp Cove, Ninth Hole - seem to be as they were, and true to their names. I imaginethat as long as this water stays as it was, or as near to remaining so as I can tell, I will call it a home water. Nowadays, it is only a handful of times a year that I fish fresh water and I live far from the waters of my youth, but I still chance to visit this reservoir.
Every spring through fall for the past three years I have fished the sand flats of Cape Cod for striped bass and bluefish. Fishing these shallow waters allows me to sight-fish, which has become my true fishing passion. I drag myself through the gloomy New England winter days with images of casting to stripers cruising across open sand in clear, knee-deep water.
With each year I've come to know the flats a little better; what spot to fish at which tide, which fly is best for each flat as the season changes. I've even found some flats that I usually have to myself, even on busy summer weekends. As with any and all waters, I've had good days and bad, double-digit fish-catching days and humbling days without a fish sighted, large fish and small. I carry crystal clear images of some days on these waters. It may be a vivid memory of fish - the sound of hundreds of striped bass crashing through schools of herring that have fled into shallow water to escape death, the sudden, violent pull on the line and bend in the rod as a striped bass mistakes the fly for a meal and heads for deep water with flyline in hot pursuit. Or perhaps it is the surreal early morning glow of a mirror-calm water surface enveloped by a thick, wet, gray-mist sky, backlit by a sun too low in the sky to burn through, yet too stubborn to go away. Sometimes, the fog lasts all day, but on better days the sun burns through, the wind stays down, and the fish swim on the flats. Even on those wet misty mornings the fish often show themselves - small swirls in the glass-smooth surface, or loud slurps from out of the mist. Then, it is almost like sight-fishing - wait for a sign and cast to it, lay the fly in the widening ring encircling a recent swirl, or cast in the direction of an unseen slurping fish.
Wading the flats of New England waters requires an investment in some cold-weather gear. Having fished most of my life in southern climes, I never had a need for waders before venturing onto the flats of Cape Cod. Now I have two pairs of waders: thick neoprenes for those spring days when the fish are hungry, the time of year when striped bass are more likely to taste most anything that moves; and light-weight waders for summer and fall, when I might spend most of an entire day on the flats. I do see some anglers on the coastal flats during the summer in only shorts and shirt, and some seem to spend much of a day wading the flats in search of fish. But my blood is too thin to tolerate the never quite warm ocean waters of New England, so I only rarely fish coastal flats unencumbered. Even more problematic are the wind-blown fog banks that appear along the coast without warning, and can turn a warm July day into a cold and damp affair. So along with my waders, I often carry a sweatshirt or windbreaker just in case. I have found a couple of sand flats in protected bays, where the water warms to a reasonable temperature, and I often leave the waders at home. In mid-summer, I like to wade shoe-less across the knee-deep flats that cast their own bright golden glow in the high summer sun. The water over the flats seems to be too warm for larger fish to venture into the shallows, at least that is my best explanation for the lack of large fish in shallow water in these locations. But the smaller fish I do find will often fall for a well-fished fly, and put up quite a fight on a 6-weight. I do know that larger fish are in these bays, because I have seen them in deeper water, and I have caught them when fishing deeper flats from my canoe. But the best chances at large fish on the flats come in the cooler shallows along the coast.
Even if you fish an area often, and even might occasion to fish it well, this does not make it a home water. This is how I find my relationship to the flats of New England. Don't get me wrong, I very much enjoy the warm summer days sight-fishing for striped bass in shallow water. But the feeling is just not right. Perhaps it is the lack of intimacy with the surroundings; it is hard to feel alone and connected with these waters that are so crowded with anglers, boaters, and sun-loving vacationers during the summer months, when flats fishing is best. A number of times I have walked a considerable distance to separate myself from the crowds, only to find myself in the company of other anglers, who appear out of nowhere, if I happen to catch fish within sight of others who are fishing. There are times of year when I might find myself alone on a certain flat, when I don't have to worry about hanging my back cast on a passing angler. Butthese uncrowded seasons are also the coolest times - those spring days when the wind still has the bite of the cold ocean that pushes it ashore, or the ever shortening days of fall when the sun is not resident long enough to warm the shores before passing again into darkness. Not that the fishing isn't good, because it is. Fishing in the spring with neoprene waders makes me feel cluttered, and somehow further from feeling the energy of the flats. I like to feel the sand on my feet and the water against my legs. The fishing in the fall is perhaps the best of the year, as the striped bass and bluefish gorge on hapless baitfish as they start their fall migrations. But for the most part, this is not sight-fishing. Fall fishing is very much a hit or miss proposition - checking out a list of probable spots, looking for signs of feeding fish. I find it hard to find a rhythm in this run and gun season. Do I enjoy fishing the flats and shorelines of New England? Of course. Do I know the waters well enough to find fish? Yes, on most days, and improving each year. Nonetheless, there is something in my gut that keeps me from truly connecting with this water. I know the water well, but cannot call this a home water. Perhaps in time.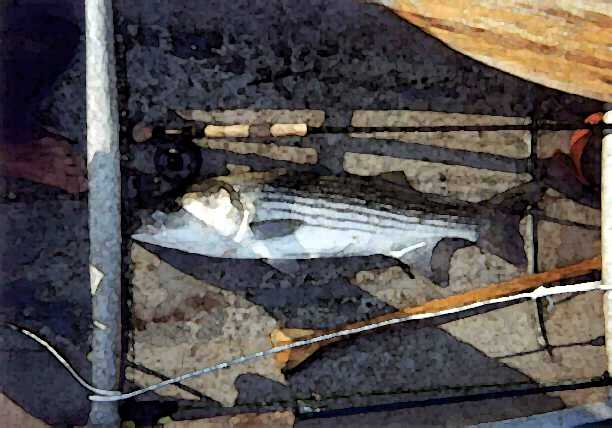 Lest you think my home waters are merely reminiscings from my youth, I want to introduce you to my passion; wading flats of deep-green seagrass or parchment-white sand, the water crystal clear and warm, sunlight bending through the wind-wrinkled water to throw dancing shadows on the uneven bottom. Shadows of near-invisible fish drifting through it all. And so many fish from which I can choose. I feel most at home in these waters, most connected. And I require no waders, nor jacket to break a brisk ocean wind. It is the energy, the sights, the sounds, the feeling of connectedness that fuels my passion for fishing the tropical flats. I have visited flats that I had never seen before, and felt immediately at home, somehow on a first-name basis before even setting foot off the beach. I'm not quite sure how this happened. I grew up in the mid-Atlantic state of Maryland, fishing mostly freshwater, with occasional jaunts into tidewaters. My first venture into salt water fishing was surf casting chunk bait along the Maryland's ocean beaches. But somehow, I get the feeling I was pointing toward this for some time.
Bonefish and permit are, of course, high on the list of fish to target, but I will often fish a flat knowing my reward might be only a barjack or blue runner. 'Only' is a poor word, for these fish are worthy in their own right, aggressive to the fly and able to put a bend in an 8 weight. The only fish for which my passion has waned is the barracuda. Dropping its cloak of invisibility just long enough to bolt in and cut the tippet with its razor-sharp teeth, the barracuda is a brazen thief. If, by chance, the barracuda does not part the line, perhaps my pure luck, or maybe I put on wire this time, he must be dealt with carefully. Barracuda are slimy to the touch and always in motion while on the line, so it pays to be careful of those sharp teeth when dislodging the hook. Granted, large barracuda will make a frightening run when hooked, I have rapped my knuckles against the madly spinning reel handle on more than one occasion, but they generally have one run only. If you have not caught a large barracuda before on the fly, by all means do so - the event will be burned in your memory, it is just that one can tire of this silver bullet with so many other choices close at hand. And it the other choices that make the barracuda such a nuisance, for the wire tippet one must use to counter the barracuda's sharp teeth makes the fly unpalatable to most other fish. Thus it comes down to fishing for barracuda or everything else.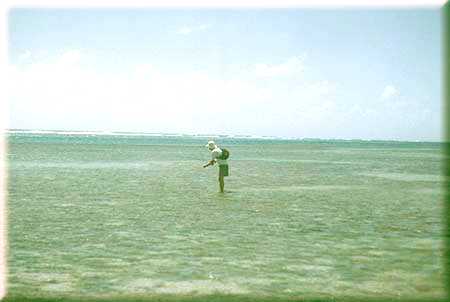 I have many images of these magical waters etched in my memory. The soft light of dawn on smooth water along a shallow mangrove-lined shoreline, small patches of nervous water the only sign of feeding bonefish below. Or perhaps the tip of a tail and fin break the surface as the bonefish moves through shallow water. The first hours of light are also a good time to come upon the unforgettable sight of the large forked tail of a permit waving fully exposed above the water surface as the fish digs in the bottom in search of a meal. But the best time on the flats is when the sun warms my back and lights up the flat with such an energy that all shades of blue and green are reflected skyward. A light breeze blows from the east, just strong enough to ripple the water surface to better hide my silhouette from the wary fish I am here to catch. And I become but another piece of the great puzzle in a warm tropical sea.
Aaron
*******
Aaron Adams
fishvet@prodigy.net
http://pages.prodigy.net/fishvet