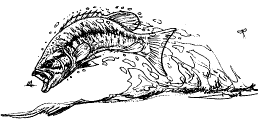 Check it Out



Headwaters:
a fish and angling art show
Here is a great selection of Hunting & Fishing magazines.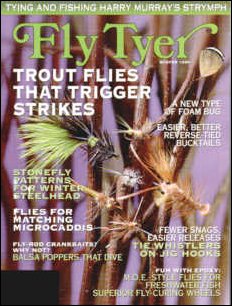 With 1200 Magazines to choose from you just can't go wrong
Help support this site by supporting our affiliates
All intellectual property and Pictures Copyright© of Robert Morger 1999. No reproductions of any material on this site is permitted without the express permission of the owner. All rights reserved.
The Onelist logo is a copyright of Onelist,Inc Copyright © 1998-1999, ONElist, Inc. All Rights
Reserved.
If you have suggestions or questions please contact rmorger@juno.com
Powered by counter.bloke.com
Rust Furry Foam Ant
Robert Morger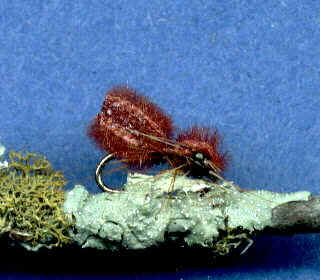 Rust Furry Foam Ant
Robert Morger

Hook: Dry fly hook 10 – 18
Thread: 8/0 Guidebrod coffee
Body: Thin cut strip of rust Furry Foam
Legs: Furnace hackle

Instructions:
Tie in thread near bend wrap to center of shank. Make a soft loop around furry foam piece, then tighten down make 2-3 more tight wraps of thread. Lift up front section of foam wrap thread in front of it, tie in tip of hackle then wrap thread forward to 1- 1-1/2 eye widths behind the eye. Wrap furnace hackle to the thread and tie off and trim. Pull foam down and tightly wrap of right behind the eye of the hook, whip finish and cement.

This fly is a good imitation of ants and small beetles that have found their way into the drink. Fish it dead drift close to the bank in streams and ponds.