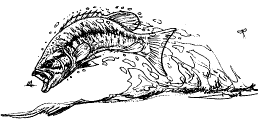 Check it Out



Headwaters:
a fish and angling art show
Here is a great selection of Hunting & Fishing magazines.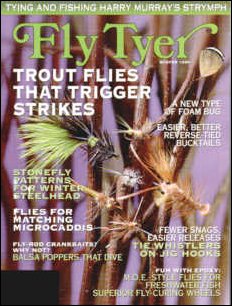 With 1200 Magazines to choose from you just can't go wrong
Help support this site by supporting our affiliates
All intellectual property and Pictures Copyright© of Robert Morger 1999. No reproductions of any material on this site is permitted without the express permission of the owner. All rights reserved.
The Onelist logo is a copyright of Onelist,Inc Copyright © 1998-1999, ONElist, Inc. All Rights
Reserved.
If you have suggestions or questions please contact rmorger@juno.com
Powered by counter.bloke.com
Sar-Mul-Mac
Tied By Chris Preston
Materials
Hook:
Tiemco 611- S size 3/0 to 5/0
Thread:
White, Danville Fly Master Plus or equivalent.
Underbody:
Three amp lead wire or non-lead equivalent.
Tail:
White bucktail.
Tail flash:
15-20 strands each of both silver and pearl Flashabou.
Wing:
6 white saddle hackles topped with blue bucktail.
Throat:
Small bunch of white bucktail, half as long as the tail.
Top wing
8-10 pieces of peacock herl.
Side flash: optional
15- 20 strands each of both silver Flashabou and multi-colored Krystal flash.
Head:
A loop of medium blue chenille on top of white chenille.
Gills:
Small, red chenille.
Eyes:
Yellow and black, solid plastic eyes, post removed, 9 mm.
Instructions for tying this fly may be found at the originators website here.