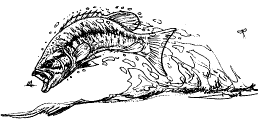 Check it Out



Headwaters:
a fish and angling art show
Here is a great selection of Hunting & Fishing magazines.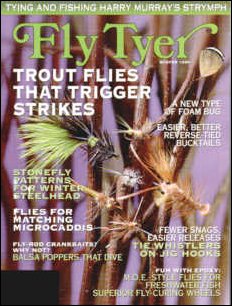 With 1200 Magazines to choose from you just can't go wrong
Help support this site by supporting our affiliates
All intellectual property and Pictures Copyright© of Robert Morger 1999. No reproductions of any material on this site is permitted without the express permission of the owner. All rights reserved.
The Onelist logo is a copyright of Onelist,Inc Copyright © 1998-1999, ONElist, Inc. All Rights
Reserved.
If you have suggestions or questions please contact rmorger@juno.com
Powered by counter.bloke.com
Ant Fact:

Ants have been living on the Earth for more than 100 million years and can be found almost anywhere on the planet. It is estimated that there are about 20,000 different species of ants. For this reason alone ants have been called Earth's most successful species.

The finished swap is below click on the pattern name to see the recipe.
Robert Morger



Winged Fire Ant
Hook: size 12 standard dry fly
Thread: Coffee 8/0 Guidebrod
Body: Seed Beads red ant (3) 2 for rear and 1 for head
Hackle: Furnace
Wing: Short piece of mylar tinsel
Other Materials: 5 minute Epoxy
Gordon Mankins



Puff Ant
Hook: Mustad 94838 (extra short shank, 1x fine, size 16
Thread: Black 6/0 or 8/0
Wing: Optional
Hackle: Black dry fly
Body: 'Puff'-on-a-string
Glenn Seibert



black/brown winged ant
Hook: Size 16
Body: Black Fine and Dry Dubbing
Tail & Wing: Small Natural Badger
Thread: Black 8/0
Alan DiSomma



Hi-vis Foam Black Ant
HOOK: Daiichi #1180 (std dry fly) Sz 12
BODY: Black closed-cell foam.
HACKLE: Black Chinese Hen
Jimmie G. Toney



E-Z Sight Ant
Hook: Dry fly, size 12 to 20
Thread: Black
Abdomen: Black Fur
Visual Aid: Tuft of fluorescent synthetic yarn tied as an upright wing
Legs: Black hackle wrapped parachute style around the base of the fluorescent yarn
Thorax: Black fur
Ray Maltby



Furnace Ant
Hook: Dai Riki 305 size 14
Body: Ultrafine dry fly dubbing
Tail & Wing: Furnace hackle
Thread: 6/0

Robert Morger

Rust Furry Foam Ant

Hook: Dry fly hook 10 – 18
Thread: 8/0 Guidebrod coffee
Body: Thin cut strip of rust Furry Foam
Legs: Furnace hackle

Tony Mince

CDC Flying Black Ants

Hook - Standard Dry Fly
Tail – None
Body - Black Dubbing
Wing - CDC Feathers
Thorax - Black Dubbing

Thomas R. Eckert



TRE Ant
Hook: lightweight Dry fly hook
Thread: matching color
Body: Thread
Hackle: sparse, clipped underneath

Bruce P. Whittle

hair legged 18 black fur ants

Hook: TMC 100 size 18

Thread: black 6/0

Rear and fore ant humps: black Hareline dubbing spun lightly on thread

Legs: 4 moose hairs

Brian Cole



Cutter's Perfect Ant, size #18
Hook: Tiemco 900BL #12-#20
Thread: Uni-Thread 8/0 - black/brown
Head: Fine & Dry - black/rusty brown
Hackle: Dry fly quality hackle - brown, Parachute style
Abdomen: Fine & Dry - black/rusty brown
Shellback: Elk/Deer hair - black/rusty brown
Post: Elk/Deer hair - black/rusty brown
Robert Morger



Cow Killer
Hook: size 12 standard dry fly
Thread: Coffee 8/0 Guidebrod
Body: SLF Dubbing formed into a dubbing brush orange, with black chenille between .
Hackle: Black dry fly hackle

Rick Tardy



Parachute ant
Rust Colored 8/0 Uni Thread
Size 16 Dry Fly Hook
Cinnamon Colored Beaver Dubbing
Brown Dry Fly Hackle

Mark Bennett



Chernobyl ant
Pending

Bill Throne



#14 Red winged Ant
Pending
Jack Reynolds



red foam ant
Hook Size 12 wet fly hook
Thread to match foam or black
Body 1/2 size 12 foam spider body
Legs Brown or black hackle

John McBride

Hi-Vis-Spey ants

Hook: light wire #12
Thread: black 3/0 mono.
Body: black chenille (fine)
Spey: flo. pink feather (any kind)

Rick Koontz



black ant/white CDC wings
Hook: Tiemco dry fly, size 16
Thread: 6/0 Black
head and thorax: black synthetic dubbing
wing: White CDC
hackle: Black

realistic dry ant
Hook… Tiemco #102y size 19 this special hook was developed as a caddis fly hook. It has a wide gap and is down eye, 1x fine and black which helps to hide it in this pattern. It is available from Feather Craft.
Thread… Danville's Flymaster 60 black
Body… 5/32 X ½ inch cylinder of Black ethafoam
Legs… heavy monocord knotted for joints.

Paul Waasdorp



Fur Ant
Hook: Dry Fly Hook
Thread: Black
Abdomen: Black dubbing and deer hair
Head: Black dubbing
Legs: Black hackle

Kevin Anderson



Black Thread Ant
Hook: standard dry fly hook size 16
Thread: black or red 6/0
Abdomen and Thorax: black or red thread
Hackle: any rooster or hen hackle to match body color

Richard Federation



Black Winged Ant
Pending

Jerry Caruso



Steeve's transparANT(orange)
Hook: size 12 Shrimp/Caddis
Thread: Copper Kreinik Blending Filament
Body(rear): Two Hot Orange Seed Beads/One Gun Metal Gray Seed Bead
Body(Front): One Hot Orange Seed Bead
Legs: Hot Orange FluroFibre
Antennae: Hot Orange FluroFibre
Eyes: Dot of Black Fabric Paint
Other Materials: Thin Silver Holographic Tinsel, 5 minute Epoxy
Robert Morger



Black Ant (Steeve's transparANT)
Hook: size 12 standard dry fly
Thread: Coffee 8/0 Guidebrod
Body: Seed Beads black ant (4), 3 for rear body and 1 for head
Hackle: Grizzly for the black ant
Other Materials: 5 minute Epoxy

Rick Zieger



Black Foam Ant
hook size you want
thread black
body black foam
legs flexifloss

Colin J. McPherson



Parachute Skues Ant
Tying Thread: Bennechi 8/0 tabacco.
Hook: 14 general purpose down eye.
Wing Post: white Polypropylene yarn.
Body: Chestnut coloured hare.
Hackle: Natural red.

Gene Holowachuk



Tri-Ant
Hook: Mustad 94840 or Tiemco 100, size 12-20.
Thread: Black, 6/0 or 8/0 on the smaller hook sizes.
Body: Black closed cell foam cut into strips
(~3/16 for rear/front segments; ~1/8 for middle segment).
Hackle: Black.

Glen Spackman

Miss Tiffany Ant

Hook: TMC 100, size 14
Thread: Black 6/0
Beacon Post: 1" hank from yellow braided nylon rope that has been unwound.(Any fluoro/high vis material will do)
Hackle: Orange, oversize, for approx. size 10 hook.
Thorax: Umpqua Black Crystal Seal
Abdomen:Umpqua Light Olive Crystal Seal

Jeremy Christensen



grizzly ant
Hook: no 16 Dai-Riki dry fly hook
Body: 1/8" black foam cut 3/16" wide
Legs: grizzly hackle

Kevin Masten



Madam Ant 16
Hook: Tiemco 101, #16
Thread: Black
Underbody: Black Krystal Flash
Body: Black Rainey's Float Foam
Hackle: Black
Legs: Black Flex-Floss

Steven Heuser



Fall Flying Ant
Hook: Standard dry fly hook like TMC 100
Thread: Brown 8/0
Abdomen: Yellow SLF, mixed with yellow Australian opossum
Thorax: Brown Australian opossum
Underwing: Twinkle organza
Overwing: Elk hair
Hackle: brown, clipped top and bottom

John Erskine



Foam Black Ant
Hook: size 14-18
Thread: Black
Body: Black Closed Cell Foam
Legs: Black Hackle Feather